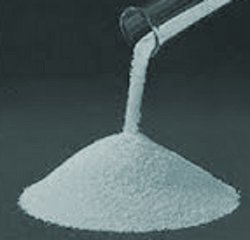 EDTA Trisodium
Product Code : 23
Price And Quantity
Minimum Order Quantity

:

500kg
Unit of Measure

:

Kilograms/Kilograms
Product Specifications
Molecular Weight

:

421 Kilograms (kg)
Usage

:

In Pharmaceutical industry EDTA Trisodium is used In Photography EDTA Trisodium is used In Textile EDTA Trisodium is useful In Boiler Turbine scale removal EDTA Trisodium is useful In Agriculture as a Micronutrient for Plant GrowthEDTA Trisodium is used For Water Treatment EDTA Trisodium is used In Laboratory Reagent EDTA Trisodium is used In Food & Beverages EDTA Trisodium is used In Cosmetics, Soaps & Detergents EDTA Trisodium is used
EINECS No

:

205-758-8
CAS No

:

150-38-9
Form

:

Powder
Color

:

white powder
Physical Form

:

Powder
Product Description
Aided by developed techniques and advanced machinery, we are able to manufacture, supply and export EDTA Trisodium. These products are used in disinfectant, color retention agent, anticoagulant for blood collection, preservative, antioxidant, chelating agent in personal care products and flavoring agent for foods. Owing to their high medicinal value, these products are also used reduce blood cholesterol. EDTA Trisodium is available with us in different quantities as per the requirements of the clients.

Other details:
Trisodium Salt of EDTA (Ethylene Diamine Tetra Acetic Acid)
Leading manufacturer and exporter of EDTA Trisodium.
EDTA Trisodium Specifications:
| | |
| --- | --- |
| Product Name | EDTA Trisodium |
| Chemical Name | Acetic acid, (ethylenedinitrilo)tetra-,trisodium salt, trihydrate |
| Synonyms | Edetate Trisodium; EDTA trisodium salt, (trihydrate); Ethylenediaminetetraacetic acid Trisodium salt; Ethylene diaminetetraacetic acid, Trisodium salt; Trisodium EDTA; Trisodium edetate; Trisodium ethylenediaminetetraacetate; Trisodium hydrogen (ethyleneninitrilo)tetraacetate; Trisodium hydrogen ethylenediaminetetraacetate, Tritriplex, |
| CAS No. | 150-38-9 |
| Color & Physical Form | White Powder |
| Active Ingredient | Na3 EDTA |
| Assay | 99 % min |
| Molecular Wt. | 412.3 |
| pH (1 % of Solution) | 6.5 - 7.5 |
| Chelation Value | 245 - 255 mg CaCo3 / g |
Application:

In Pharmaceutical industry EDTA Trisodium is used


In Photography EDTA Trisodium is used


In Textile EDTA Trisodium is useful


In Boiler Turbine scale removal EDTA Trisodium is useful

In Agriculture as a Micronutrient for Plant Growth EDTA Trisodium is used


For Water Treatment EDTA Trisodium is used

In Laboratory Reagent EDTA Trisodium is used


In Food & Beverages EDTA Trisodium is used

In Cosmetics, Soaps & Detergents EDTA Trisodium is used
Packing: 25 kg PP bag with LDPE liner inside / 500 kg and 1000 kg Jumbo bag.
| | | | |
| --- | --- | --- | --- |
| EINECS No. | Category | Reach Registration | MSDS |
| 205-758-8 | Non Hazardous | YES | Available on request |