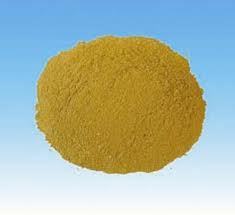 Chelated Iron EDTA
Product Code : 06
Price And Quantity
Minimum Order Quantity

:

500
Product Specifications
CAS No

:

(CAS-No. 15708-41-5)
Shape

:

Shiny Powder
Properties

:

EDTA Fe is a stable water soluble metal chelate, mainly used in agriculture and horticulture as micronutrient, to prevent and correct Ferric deficiencies. Applicable in Foliage fertilizers, in trickle irrigation, absorbed in NPK etc. EDTA Fe provides healthy growth to plant and maximum yield to crop.
Product Name

:

EDTA Fe 12%
State

:

Powder
Classification

:

other
Molecular Formula

:

C10H12N2O8 FeNa.3H2O
Product Description
Owing to the knowledge and chemical expertise of our skillful team, we are able to manufacture, supply and export Chelated Iron EDTA. These products are made of high quality copper and iron that are gathered from the well renowned sellers of the market. Our clients appreciate these products for their high usage as a chelating agent in different industries. Chelated Iron EDTA is available with us in different quantities as per the needs of the clients.
Chelated Iron (EDTA Fe-12%) Specifications:
| | |
| --- | --- |
| Appearance | Light Yellow Tan Powder |
| Formula | C10H12N2O8 FeNa.3H2O |
| Chemical Name | Ethylenediaminetetraacetic acid iron, Edetate Iron; iron ethylenediaminetetraacetate |
| Synonyms | quelato de hierro |
| CAS No. | 15137-09-4 |
| Ferric Content | 12% min. |
| pH (1% solution) | 4 - 6 |
| Clarity | Clear Solution |
Chelated Iron (EDTA Fe-13%) Specifications:
Product Name

EDTA ferric sodium salt

Chemical Name

EDTA, Iron (III) Sodium Salt

Synonyms

Ferrate(1-), [[N,N'-1,2-ethanediylbis[N-[(carboxy-kO)methyl]glycinato-kN,kO]](4-)]-, sodium, (OC-6-21)-Ferric sodium edentate, Iron monosodium EDTA
Sequestrene, NaFeSodium iron(III) ethylenediaminetetraacetat, Sytron

CAS No.

15708-41-5

Color & Physical Form

Light Yellow Tan Powder

Active Ingredient

C10H12N2O8 FeNa.3H2O

Molecular Wt.

421.09

Ferric Content

13% (+/- 0.5)

pH (1 % of Solution)

4
Application:
It helps in preventing the deficiencies of iron
Packing: 25 kg PP bag with LDPE liner inside / 500 kg and 1000 kg Jumbo bag.
Other Information:
| | | | |
| --- | --- | --- | --- |
| EINECS No. | Category | Reach Registration | MSDS |
| 238-785-9 | Non Hazardous | Yes | Available on request |